Snow White and the Huntsman (stylized as Snow White & the Huntsman) is a 2012 fantasy film based on the German fairy tale "Snow White" compiled by the Brothers Grimm. The movie is directed by Rupert Sanders, and written by Evan Daugherty, John Lee Hancock, and Hossein Amini, starring Kristen Stewart, Charlize Theron, Chris Hemsworth, and Sam Claflin.
Snow White is the Princess of Tabor and the daughter of King Magnus and Queen Eleanor. After his wife's death, King Magnus marries the beautiful Ravenna after he rescues her from the Dark Army, an invading force of glass soldiers. Ravenna who is in fact a powerful sorceress and the Dark Army's master kills Magnus on their wedding night after noting that men like him exploit the beauty of women and discard them. As she seizes ultimate control of the entire Kingdom, Duke Hammond escapes the Castle with his son William but is unable to rescue Snow White, who is captured by Ravenna's brother Finn. Snow White is then locked away in China town.
Over the next several years, Ravenna uses the Magic Mirror (Christopher Obi Ogugua) to capture all the women whose beauty might surpass her own and drain their youth, in order to maintain a spell once cast by her mother, which allows her to use her beauty as a weapon as long as she is "the fairest of them all". Tabor meanwhile is left in ruins under her rule and Ravenna's abuse of magic results in her stolen beauty fading.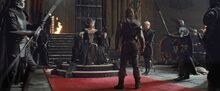 Ten years later, Ravenna learns from the Mirror that a now-grown up Snow White is destined to surpass her and that she must consume the young girl's heart in order to become immortal. She orders Finn to bring her Snow White but she escapes and is chased into the Dark Forest, where Ravenna's forces ultimately lose her trail. Powerless in the Dark Forest, Ravenna locates Eric, the Huntsman (Chris Hemsworth), a drunken widower who survived a hunting expedition to the Dark Forest some time before, and orders him to lead Finn and his men in pursuit of Snow White. In exchange she promises to revive his deceased wife Sarah, but warns him that he will be executed should he refuse. Duke Hammond learns from one of his spies infiltrated in Tabor that Snow White is alive and has fled into the Dark Forest, and his son William (Sam Claflin), Snow White's childhood friend, disguises himself in order to infiltrate Finn's band as a bowman and find her.
Eric soon locates Snow White only to be startled by her claim that Ravenna will betray him. He interrogates Finn and then he learns that it is impossible to resurrect the dead - which infuriates him. The Huntsman helps Snow White escape, promising to escort her safely to Duke Hammond's Castle in exchange for a small reward of gold. The two pass through a village where all the women have disfigured themselves in order to escape Ravenna. Eric learns about Snow White's true identity as they continue onwards. They are then found and tied up by a band of dwarves with an old grudge against the Huntsman - consisting of Muir (Bob Hoskins), Beith (Ian McShane), Gort (Ray Winstone), Coll (Toby Jones), Duir (Eddie Marsan), Quert (Johnny Harris), Nion (Nick Frost) and Gus (Brian Gleeson). The others are about to kill the captured travelers when Muir uses his powers of premonition to discover that Snow White's identity as the only person in the land who can defeat Ravenna and end her reign of terror. They agree to help her.
The group is attacked once more by Finn's men, resulting in Gus' death. The Huntsman kills Finn after learning he is the one responsible for Sarah's death. William then reveals himself and helps defeat the soldiers before joining the others on their journey to Hammond's castle.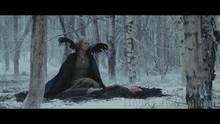 Ravenna learns of Finn's death and decides to take matters into her own hands. She disguises herself as William and tempts Snow White into eating a poisoned apple, but is forced to flee when the Huntsman and William attack her. William attempts to revive the now comatose Snow White with his kiss but fails and takes her corpse to Hammond's Castle, not seeing that a single tear has fallen. The Duke and his allies mourn while the Huntsman professes his love for the princess and tells her that she reminds him of his wife and kisses her, breaking the spell as she awakens after a second tear falls. Snow White then takes command of the Duke's army and promises to defeat Ravenna by leading them into war.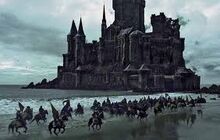 The next day, the dwarves secretly infiltrate Ravenna's castle through the sewers and open the gates to allow the Duke's army to invade the castle. Snow White searches the castle and confronts Ravenna, engaging in a one-on-one duel with her stepmother. William, the Huntsman, and several guards follow Snow White and are attacked by Ravenna's dark army. Believing victory is hers, Ravenna is about to kill Snow White when the princess uses the defense move the Huntsman taught her, stabbing the Queen in the heart. Ravenna, in shocked disbelief, immediately pulls the dagger from her body, but then three drops of blood fall onto Snow White's armor. Mortally wounded, the Queen crawls a way to her beloved mirror, and withers into a decrepit old crone, and dies, but not before a sympathetic Snow White informs the frightened Queen that "You cannot have my heart." The Dark Army crumbles into dust and Duke Hammond's army is victorious. Upon the end of the darkness, the kingdom is restored to its former glory and Snow White is crowned Queen with Prince William and the dwarves by her side. As she looks out over her subjects, her gaze rests on the Huntsman and the two share a smile indicating a possible romantic future for the two.
                                           FINISH

Ian McShane - Beith,
Bob Hoskins - Muir,
Johnny Harris - Quert,
Toby Jones - Coll,
Eddie Marsan - Duir,
Ray Winstone - Gort,
Nick Frost - Nion,
Brian Gleeson - Gus,
Evan Daugherty
John Lee Hancock
Hossein Amini
Angelina Jolie and Winona Ryder were both considered to play Ravenna. Charlize Theron dropped out from J. Edgar to do this film. Johnny Depp, Tom Hardy and Michael Fassbender were all considered to play Eric, the Huntsman. For months, Viggo Mortensen was in talks to star as the Huntsman, but negotiations fell through and Mortensen dropped out. After Viggo Mortensen passed on the movie, the role of Eric was offered to Hugh Jackman, who also declined. Dakota Fanning, Saoirse Ronan, Riley Keough, Alicia Vikander, Bella Heathcote, Selena Gomez, Emily Browning and Felicity Jones were all considered for the role of Snow White. During filming, Kristen Stewart accidentally punched co-star Chris Hemsworth in the face, giving him a black eye. Production of the film was temporarily shut down in October 2011 after Kristen Stewart tore a ligament in her thumb, during an attack scene with the dwarves. Stewart also suffered from a foot injury sustained on set. Lily Collins auditioned for the lead role, but lost to Kristen Stewart. She was later cast in the other 2012 film based on the tale of Snow White, Mirror Mirror.
Filming began in the United Kingdom on October 2011 and was completed in December 2011 in London, England. The beach scenes were predominantly filmed in Pembrokeshire, on the Marloes Sands beach near the village of Marloes between September 26 and 29, 2011. Though the beach was not closed to the public during filming, as filming progressed, certain parts were advised to be off limits. A computer-generated castle was set on nearby Gateholm island. A field above the beach was used for production purposes, and a special wooden ramp was built for vehicles and horses to access the beach.
English band Florence and the Machine recorded the song "Breath of Life" exclusively for the film which was reportedly inspired by Theron's character Queen Ravenna.
The film utilized academic consultants from the University of Chichester and the University of Oxford for back-up research on fairy tales and medieval battles. In particular, the dwarves' names drew from this consultation. They were related to Ogham, the ancient Celtic 'Tree Alphabet' in which letters are associated with certain trees and have a symbolic value, for example Beith = Birch (= letter B: signifies: New beginnings; start of a journey); Coll = Hazel (= letter C: signifies: Inspiration, Wisdom); Gort = Ivy (= letter G: signifies: Struggle, climb, transformation) - these are names used in the film.
The BBFC rated the film 12A for "moderate violence and threat."
The MPAA rated the film PG-13 for "intense sequences of violence and action, and brief sensuality." Celebrating for the rating, Universal Pictures released three "Roll Call" TV Spots with the tagline, "This is no fairy tale."
The film had its world premiere on May 14, 2012, at the Empire, Leicester Square, in London.
The film earned $1.383 million from midnight showings ahead of other recent midnight openers Wrath of the Titans ($1 million) and Dark Shadows ($550,000). For its opening day, the movie debuted at the top of the box office with $20,468,525. It held onto the no. 1 spot at the box office during its opening weekend and grossed $56,217,700. The film is also fourth-highest debut this year behind The Avengers, The Hunger Games, and The Lorax, and above last weekend's Men in Black 3.
Internationally, Snow White and the Huntsman debuted at no. 1 in 30 countries with $39.3 million in worldwide box office this weekend.
As of June 5, 2012, the film has grossed $71,403,845 in the North America, along with $46,622,211 in other territories, for a worldwide total of $118,026,056.
Snow White and the Huntsman received mixed reviews from critics. The movie has a 46% "rotten" rating on Rotten Tomatoes, based on 149 reviews, with an average score of 5.6/10 and a consensus reading "Although it offers an appropriately dark take on the fairy tale which had inspired it, Snow White and the Huntsman is undone by uneven acting, and problematic pacing, also with a confused script." CinemaScore polls conducted revealed the average grade in which cinema-goers gave the film was a "B" on an A+ to F scale.
David Edelstein of New York praised the film's revisionist tone and says the film was "strongly influenced by a lot of smart, feminist thinking," and Roger Ebert gave the film 3.5 stars out of 4. A.O. Scott of the New York Times praised the performances of Theron and Stewart and also wrote, "Though it is an ambitious - at times mesmerizing - application of the latest cinematic technology, the movie tries to recapture some of the menace of the stories that used to be told to scare children rather than console them." Betsy Sharkey of the Los Angeles Times said the film is "an absolute wonder to watch and creates a warrior princess for the ages. But what this revisionist fairy tale does not give us is a passionate love - its kisses happen to be as chaste as the snow is white."
Peter Bradshaw of The Guardian said that while the film is, "less jokey than the recent Mirror Mirror," he thought that, "this Twilightified fairy tale has the same basic problem. The result is tangled and overblown." Mick LaSalle of the San Francisco Chronicle wrote, "A slow, boring film that has no charm and is highlighted only by a handful of special effects and Charlize Theron's truly evil queen." Michael O'Sullivan of the Washington Post also gave the film a negative review and called it, "Overlong, overcrowded, overstimulating and with an over-the-top performance by Charlize Theron as the evil queen Ravenna, the movie is a virtual orchard of toxic excess, starting with the unnecessarily sprawling cast of characters." Lisa Kennedy of the Denver Post gave the film 2 out of 4 stars and said, "Only Bob Hoskins as the blind seer Muir comes close to making us care. We can almost glean Snow White's heroic possibilities through his clouded eyes. As much as we had like to, we certainly can't from Stewart's efforts."
A sequel to Snow White and the Huntsman has been given the green light by Universal and will hit sceens in 2015. Kristen Stewart and Chris Hemsworth are confirmed to return while it is unsure wheather Charlize Theron and Sam Claflin are to return. Rupert Sanders may not return to direct. The Huntsman: Winter's War is set to release in 2016.
There was a goof in the scene where Snow White and Eric have been caputred by the dwarves. All through the scene, Snow White and Eric's hands are tied in front of them, but one second, their hands are tied behind them and then back again for the rest of the scene.
Community content is available under
CC-BY-SA
unless otherwise noted.