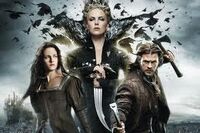 So, you just saw Snow White and the Huntsman...ready for a sequel? If so, you're in luck. It seems that a sequel is already in the works. But what do add onto a movie that has an ideal ending? How can you make a sequel after that--add a new enemy?
Just as expected, Rupert Sanders is doing something a little unorthodox. He hasn't divulged the details of the plot yet, but he has said that the sequel will deal with corruption of power:
"I think the corruption of power would be the second one. I think we've created this very chaste girl who's got to this position and now she's in this position of supreme power," he said. "We wanted to be contemporary with the theme here and I think in the next film we'll do the same. There's so many examples of people corrupted by power. When we were talking about it, myself and [producer] Joe Roth, there were so many things happening in the newspapers of these very powerful men abusing that power in hotels and sports locker rooms. People who get powerful sometimes lose their bearings and abuse that power and that's kind of an intoxicating theme."
So, what do you think? Does this sound like a good idea, or is it too weird to see Snow White corrupted by greed and power? Comment below and let us know what you think!
Source: MTV News
---
---